About Us
[ Home ] [ About Us ] [ Stallions ] [ Mares ] [ Foals ] [ Horses For Sale ] [ Photo Album ] [ Links ]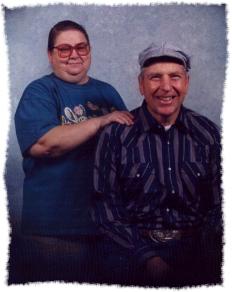 Jim & Mary Farmer
Married March 1, 1952 which adds up to 55 years this year.
| | |
| --- | --- |
| | |
| This is the new horse barn at Happy Appy Acres paid for by our friends from ApHC, FAB, ICAA, FAHR,. Our family gave us many, many of their hours in swinging hammers. We bought a little wood and the steel trusses. When we didn't have a truck because it burned up in the fire the Collinwood Hardware delivered things at no cost for delivery. These people have proven to be great friends. Other people who hunt here and the ones we buy hay in their fields came and helped. All 3 generations of one family. Jim and Jim Jr. ran the sawmill and cut the rest of the wood. | This is the new hay barn at Happy Appy Acres. Built after the fire had destroyed the old one. We say, "Thank you to the Appaloosa Regional Club and Sundance 500 for the money to pay for the hay that is in it. |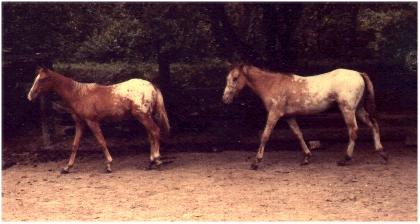 Taffy (right) & Rocket (left) were the original appaloosa mares that started the breeding program.
| | |
| --- | --- |
| This photo exemplifies why Happy AppyAcres exists. LilMan (left) and Firefly (right) are half brothers. We liked Firefly so much that we bought LilMan and decided to breed Appaloosas. | SH Rocket Girl and first born Cash's Blu Missile - the beginning. |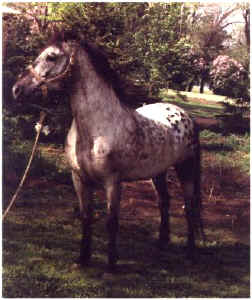 This is Sundance Romeo (now deceased). Our original sire for Happy Appy Acres.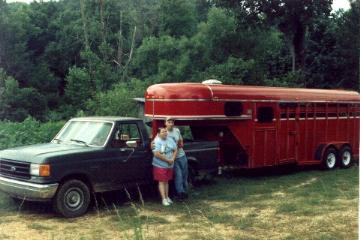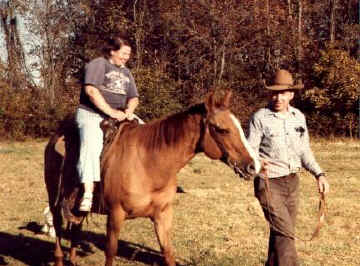 We have always enjoyed our horses.
[ About Us ] [ Stallions ] [ Mares ] [ Foals ] [ Horses For Sale ] [ Photo Album ] [ Links ]
Happy Appy Acres
Jim & Mary Farmer
6201 Grassy Creek Road
Lutts, Tennessee 38471
(931) 724-5255
happyappyacres@yahoo.com